Slaughterhouse (Schlachthaus) and Long Lane (Lange Gasse)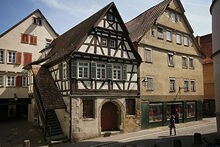 The old slaughterhouse is in Long Lane (Lange Gasse) 18. The Ammer channel runs underneath the slaughterhouse and used to carry away litter, including waste from the slaughterhouse.
Today it is the Lithographic Printing Centre and a venue for exhibitions of Tübingen's Künstlerbund (artists' association).